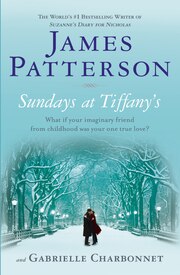 This book was given to my by a co-worker and I absolutely loved reading Sunday at Tiffany's by James Patterson.  This book tells a light hearted story that is easy to read.  Reading Sunday at Tiffany's made me smile and I felt warm inside throughout the whole book.  It is comforting to know that there is someone out there for everyone; somewhere out there in the world our perfect match is just waiting for us.  Patterson tells the tale of a scared young girl who grows up to become very successful young woman while living a very luxurious lifestyle in New York City.  The young girl has an absentee father and a mother who is so busy with her own life that she often forgets she has a little daughter.
In order to find comfort and companionship the young girl creates her perfect imaginary friend.  Of course the man does not really exist in real life, but nevertheless he is by the little girl's side everyday throughout the early years of her life. The imaginary friend provides unconditional companionship to a lonely little girl.  It is very sad to know that children have to grow up in a world where they do not have real friends, but at the same time it is comforting to know that a child can grow up and find personal security based only on the idea of having a best friend.
As she grows up the little girl finds that her life is full of dreams and full of success, but it is missing love and human emotion attachment. As an adult the girl reconnects with her childhood (imaginary) friend; she once again turns to him for companionship and comfort, but this time also for love.
Sunday at Tiffany's by James Patterson is definitely a feel good story about love, friendship, companionship, family, and all of the other little things in life that make us happy such as ice cream, shiny objects, and finding the perfect dress.  Sunday at Tiffany's takes readers on an emotional roller coaster ride as we watch a lonely and insecure young girl grow up to become a successful and confident young woman who falls in love with the (imaginary) man of her dreams.
Photo by Chapters